Cotton is the most important of the natural cellulosic fibers. It still accounts for about 50% of the total fiber production of the world, although man- made fibers have made inroads into cotton's share during the last two decades. Cotton canvas is measured in counts which refers to the number of warp and filling yarns per inch in a fabric. It is also called the thread count. Cotton canvas is often sold in terms of weight. Therefore, in general, the higher the thread count and thicker the fabric, the more expensive the canvas.

Cotton canvas is a relatively strong material typically having a tenacity of 2-5 g/d. The hydrophilic nature of unstarched/unwaxed cotton canvas and the effect of absorbed water on the hydrogen bonding within cotton cause the tensile strength of cotton canvas to change significantly with changes in moisture content. As a result, wet cotton canvas is interestingly about 20% stronger then dry cotton canvas. The increased strength of cotton canvas on wetting adds to its long useful life. Most insects do not attack cotton canvas; however, silverfish will attack starched cotton canvas. A major problem with cotton canvas results from fungi and bacteria being able to grow on cotton. Mildews feed on hot moist cotton fibers, causing rotting and weakening of the cotton canvas fibers. Cotton canvas is only slowly attacked by sunlight, since cellulose lacks for the most part groups which absorb ultraviolet light between 300 and 400nm. Over long periods sunlight may slowly degrade cotton canvas, causing it to lose strength and to turn yellow.
Although cotton canvas has excellent heat resistance, degradation due to oxidation becomes noticeable when cotton canvas is heated in the air at 150 degrees celsius for long periods. At low humidities in the absence of heat and light, cotton canvas will not deteriorate over long periods of storage.
The resistance of cotton canvas to common household chemicals, sunlight and heat makes it durable in most textile applications. Cotton canvas can be dyed sucessfully by a wide variety of dyes, and the colourfastness of properly dyed cotton canvas is excellent. Cotton canvas launder readily, and its wet strength and alkali resistance mean that cotton canvas is resistant to repeated washings. Cotton canvas has moderately high heat conductivity, which makes the canvas fabric comfortable in hot weather. Cotton shows better resistance to sunlight than do many fibers. Cotton canvas generally have lower abrasion resistance as those that are blends with more abrasion resistant fibers such as polyester. Cotton fabrics will not, however, pill badly.
In all, cotton canvas's versatility and reasonable cost make it a popular material for many products like canvas bag, canvas tote bags, canvas sheet and canvas cover. Cotton canvas could also be starched or waxed to make it water-resistant. The starching/waxing of this canvas fabric would also make the waterproof canvas tougher and add a harder feel to the touch thus making it even more favourable for industrial and marine applications.

More on production of cotton canvas
More on qualities and classification of cotton canvas
More on properties of cotton canvas
More on artist unprimed cotton canvas
White cotton canvas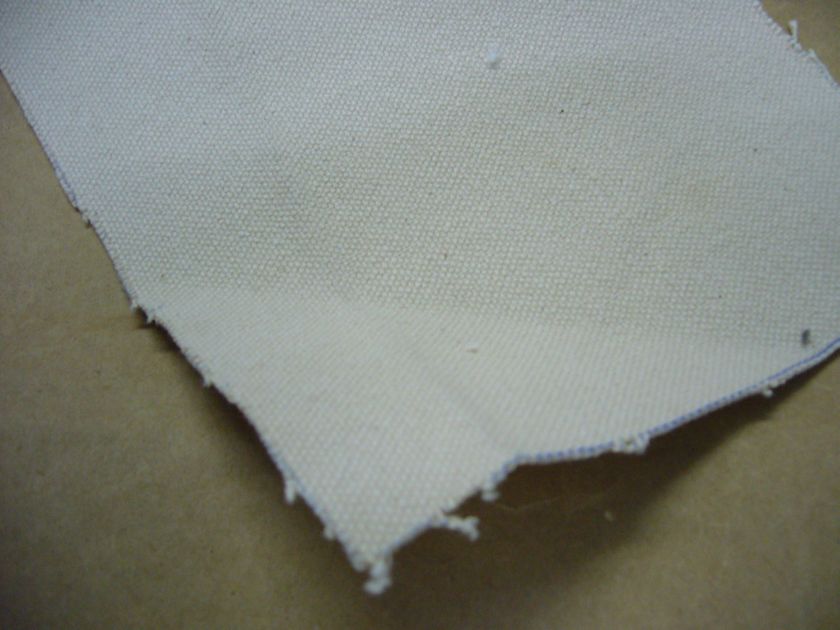 Green water resistant cotton canvas